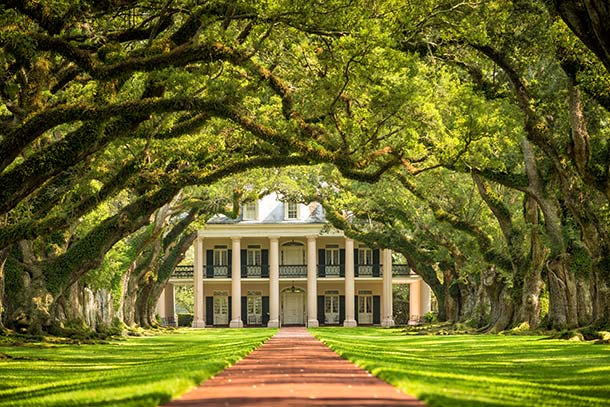 For most people, when they think about Louisiana, they think about jazz and the French Quarter and paddlewheel boats on the Mississippi turning out that classic calliope. What they certainly don't think about are the following lesser-known but nevertheless amazing examples of natural and architectural beauty that the great state of Louisiana has to offer…
When you think of grand plantation homes in Louisiana, it's hard not to picture Oak Alley — also known as "The Grande Dame of the Great River Road," with its canopy of ancient oaks leading you up to the "big house." If you decide to visit and partake of the natural and architectural splendor, overnight stays in the plantation's various cottages are a good bet, as are the in-room evening meals featuring excellent Cajun cuisine. But note: "the use of 'drones' or any aerial photography devices is not permitted." So… keep the drone at home.
No, it's not where the slider was invented, even if it does reside in White Castle. Nottoway basically is a white castle, the largest remaining antebellum mansion in the South (53,000sqft!). The place is both huge and breathtaking, as are the immaculately maintained grounds. But the best thing about it is that you can actually stay there and feel like a late-19th-century big shot.
3.      The Gardens of the American Rose Society
You like flowers? Well, if so, you need to pack your bags and head to Caddo Parish, where you'll find the American Rose Society, whose gardens span 118 acres of florid beauty. It is, in fact, America's largest garden dedicated solely to roses, with 65 individual gardens and a whopping 20,000 rose bushes. Beware the thorns!
So this is an interesting story: a reclusive bricklayer named Kenny Hill, who, beginning in 1990, started turning his grounds out on the bayou into one of the most intriguing works of "outsider art" in the country. The centerpiece of his work is a crazy 45ft-high lighthouse embellished with figures including God, angels, soldiers, and, of course, the artist himself. It's all just beautifully weird and fascinating.
There are actually six sites making up this renowned park system, but the best is easily the Barataria Preserve, 23,000 acres of pristine Louisiana wetlands that will make you fall in love with the beauty of the swamp. Here you'll find marshes, forests, bayous, and lots of animals — birds, frogs, snakes, turtles, nutria, and, of course, alligators.
Nestled along the South Louisiana coastline is a cozy little town called Grand Isle, and if you have any interest in birding, fishing, or lepidoptery, you'll want to pay this oasis a visit. It is, in fact, Louisiana's only inhabited barrier island, dating back to 1781, and it currently features a "butterfly mound" (that's where the lepidoptery comes in), birding trails, the Elmer's Island Wildlife Refuge, tons of fishing spots, wide-open beaches, and a magnificent view of the Gulf of Mexico.
This state park is known as the "Garden in the Forest," which is certainly an accurate (if unimaginative) description. Part of the original 107,000 acres of clear-cut land purchased by A.J. Hodges, Sr. between 1937 and 1940, the gardens feature streams, a 225-acre lake, and a 5.3-mile "loop road" that's great for biking and hiking. Or if you just want to relax and soak in the beauty, you can do that, too.
You might recognize the name of this place, seeing as it's on every bottle of Tabasco sauce. Conveniently located on a giant mound of salt (one of Tabasco's three ingredients), Avery Island doesn't just churn out pepper sauce; it's a magnificent spectacle of South Louisiana nature (a 170-acre Jungle Garden), one which you're more than invited to roam.
If you're looking for a National Forest in Louisiana, Kisatchie is the state's one and only. But really, we only need one because Kisatchie is just spectacular. The entire forest is too big to admire at once, but a good start is the Castor Creek scenic area, where you'll find a stunning azalea trail. The only scary part is that it lies on the edge of a US military bombing range, so… keep a keen ear out for incoming explosions!
It might not seem like the most beguiling name, but Poverty Point is actually an incredible (and incredibly important) archeological site dating back 3,000 years, when Native Americans built this series of mounds and ridges thought to be the hub of a trading system that spanned thousands of miles. It's touted as an "engineering marvel," basically making it the Stonehenge of Louisiana. Fascinating and beautiful.
11. Lake Claiborne State Park
With its sandy beaches, boating, and abundant fishing opportunities (there's a reason Louisiana is called "Sportsman's Paradise," and it isn't because of the Saints), Lake Claiborne is a fantastic place to visit if you want to drink in Louisiana's natural splendor. And bring your appetite for fresh fish, because the lake is literally swimming with largemouth bass, bluegill sunfish, channel catfish, black crappie, striped bass, chain pickerel, bream, and white perch. We'll take one of each, please, preferably with a nice brown butter sauce.
12. Tunica Hills
When you think of Louisiana, you might not think of rugged hills, bluffs, and ravines, but that's exactly what you'll find in Tunica Hills. Want to trap some coyotes, foxes, bobcats, raccoons, and opossums? You can do that. But if you just want to enjoy some nature, there's more than an eyeful here as well, especially the lovely falls.
For the full-on swamp experience, it's all about Honey Island, one of the least-altered river swamps in the United States. Really, nobody messes with this one, and thank goodness for that. Take a tour, and you'll see why: magnificent cypress trees, their arms dripping with Spanish moss, owls and waterfowl, wild boar, snakes, and (as always), alligators. But it's not the gators you should fear here — it's the infamous Honey Island Swamp Monster, basically Louisiana's homegrown Bigfoot. Fun fact: it's also known as the "Louisiana Wookie."
Not everyone is lucky enough to have grown up in "The Boot." If you didn't grow up in Louisiana, there are more than a few reasons why you need to make a trip to the South to experience this amazing state firsthand. From the music to the food, the culture in Louisiana is truly like no other.
Louisiana is such a unique place and everyone should be sure to visit and experience all that its culture has to offer. Louisiana has something for everyone, from the food to the sports to the history!
Riverside will make sure your ground transportation is covered from airport transportation to historic tours you will have the best transportation in Baton Rouge and beyond.
Whether you're looking for airport car service, help with corporate ground transportation, or planning a special night out in one of our luxury limos, Riverside Limousines strives to accommodate even the most discriminating client. From citizens to senators, you can rely on the team at Riverside Limousines!
Book your Riverside limo now and explore Louisiana, there's so much to see and do, why not travel safe and in style?