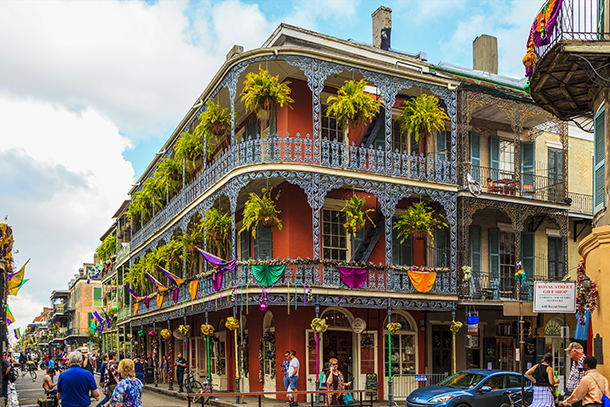 When it comes to celebrating New Orleans weddings in style, there's no place on planet Earth quite like the French Quarter. Bursting with historical beauty, a rich and one-of-a-kind culture, and wedding venues that find no rival, this famous district is easily one of the most fun and exciting places to be, especially on this special and significant day in your life. There is one challenge, however, when it comes to choosing from the vast array French Quarter wedding venues — not falling in love with each and every spectacular venue you set your eyes upon.
First up, we bring you Latrobe's on Royal. A highly prized building in the heart of the French Quarter in New Orleans, this romantic and glamourous venue once served as the Bank of Louisiana. Today, the famous building gets its name from the famous architect who designed it — Benjamin Henry Latrobe, better known as the "Father of American Architecture" for having built the U.S. Capitol, the Porticos of the White House, the Baltimore Basilica, and the Waterworks System of the United State. With a legendary visionary's creative design behind the construction of this venue, you know you are in for a treat.
Still boasting original structures, including the whisper dome, bank vault, and gorgeously exposed brick walls, Latrobe's on Royal sets the ideal tone for New Orleans weddings that are striving for intimate and cozy aesthetics. However, just because this venue has an old world charm doesn't mean it isn't perfect for any style soiree of just a few or 200 or more. The luxurious accents that characterize this New Orleans venue complement any look. A detail that remains, the soft, yet bold uses of light throughout each and every room. Golden chandeliers and wall sconces truly give each area a soft glow that is effortless and breathtaking to behold.
At Muriel's Jackson Square, the past and the present seem to exist simultaneously. Working to preserve much of the original character of this long-loved restaurant, the team at Muriel's Jackson Square are all about staying true to the unique culture of New Orleans, Southern hospitality, and an ol' fashioned good time. Home to a restaurant bistro, an outdoor balcony that overlooks that downtown area, a courtyard bar, and a lounge area, this wedding venue in the French Quarter is both a lovely place to host your day and to enjoy a superb wedding dinner.
Still functioning as a local dining favorite, the cuisine gives each and every guest an authentic taste of Creole and true Louisiana style dishes. Tourists are absolutely smitten with this place because of the many areas that you can use during your New Orleans wedding and the top-notch catering that comes right along with the venue. Here, you can easily go low key and intimate or throw a grand party with 200 or more of your friends and family!
Home of New Orleans' oldest and most beautiful ballroom, dating back to 1817, the Bourbon Orleans Hotel truly provides you with an old world taste of the French Quarter. Since the time that the hotel served as the Orleans Theater and Ballroom, this historic site has hosted countless wedding days throughout the centuries.
For a grand affair that speaks to the quintessential spirit of New Orleans, this is definitely a go-to spot for weddings in the Big Easy. With the ability to host up to 350 guests, the ballroom and the private balcony that overlooks the French Quarter are perfect for a luxurious celebration! But the detail that is really amazing, the extraordinary way that the Bourbon Orleans Hotel staff really honors the bride and groom and treats them like family. In addition to providing you and your groom with the stunning ballroom and balcony, when you select this venue for your day, you can count on a complimentary bridal suite on the evening of wedding reception, including bridal amenities and going-away box of food for you and your groom on the night of the wedding, a private attendant that is dedicated to helping you through the reception, a professional wedding coordinator, a complimentary bottle of champagne for the wedding toast, complimentary cake-cutting service, votive candles for reception tables, special valet parking rates, room upgrade for parents, and a complimentary one-night stay for your first year anniversary.
Besides having the luxury of being located right in the heart of the world-renowned French Quarter, Petite Bourbon is the only one of the French Quarter wedding venues to boast of having a ballroom, balcony, and courtyard. However, the most unique and special aspect of this rare venue is the little niche that exists just beyond the courtyard. Most likely once used as a wine cave, hidden chamber, or dining alcove, this area is perfect for a small and intimate wedding day at Petite Bourbon.
For a more grand fête, the ballroom and the courtyard together can easily host up to 500 people. Adorned with sparkling chandeliers, hardwood floors, and elegance that cannot be described, the ballroom truly defines romance and historic, old Louisiana charm. When it comes to this outstanding New Orleans wedding venue, you couldn't even choose a favorite detail, everybody adores each space and the quality experience you receive each time you walk through the door.
It's nearly impossible to choose a favorite among these French Quarter wedding venues. Each location has a story and details that gives it a quality all its own.
We can't make these easier for you but you can help you build your story.
Riverside Limousine offers the best wedding limousines in Baton Rouge Area.
Picture this: it's your Big Day. You are swept away in style, Cinderella on the way to her ball. Following your ceremony, you and your spouse enjoy a private luxurious atmosphere while relaxing and listening to your favorite music and enjoying our complimentary refreshment bar.
Perfect planning. Impeccable service. Elegant limos and Town Cars. Because your wedding is one of the most important occasions of your life, you deserve the very best. Which is why we strive to deliver the very best each and every time we serve a wedding party.
For over 30 years, we've been serving bridal parties in the greater Baton Rouge area and helping to make sure each bride and groom has luxurious and safe transportation. Call 225.928-LIMO to make your reservation today!