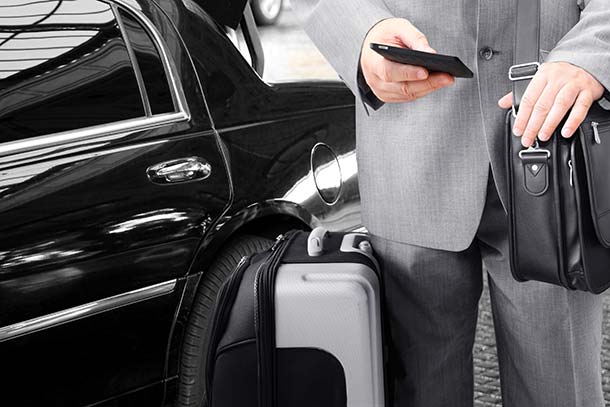 Executives are notoriously hard-working individuals who, depending on the industry, can spend a great deal of their time traveling for business. But just because executives are experts in the realm of business travel doesn't mean they are immune to picking up bad habits. Here are 6 of the worst executive travel habits we've seen in our years of chauffeuring.
Over Packing
A three-day trip does not require 5 ties. Smart executives learn to pack smarter than just throwing all available business clothes in a carry-on and calling it done.  While this standard of efficiency from this clip from the movie "Up in the Air" may be unrealistic it provides a good goal to shoot for.
Not Reserving Car Service
Transportation is oftentimes the last thing booked by either a travel manager or assistant, but that doesn't mean it is unimportant. Being a stranded executive at airport or in downtown areas without reliable transportation doesn't have to add to your business travel stress.
Chauffeured car service means that once we pick you up, you never worry about transportation again (or at least until the end of the trip).
Not Researching your Hotel
A good travel manager knows that the perfect hotel really can make or break a business trip. Variables like reward points, location, amenities, and distance from meetings are all extremely important factors when it comes to figuring out where to stay. That said, it's very important that the travel manager and executive communicate preferences and expectations to make sure that the hotel that looked great online doesn't end up being a dump thirty miles outside the city.
Not Relaxing Enough
Business travel is exhausting. No matter how great your meeting goes or how luxurious your hotel is, not taking time to relax is one of the biggest mistakes an executive can make on a business trip. Because most executives are admitted workaholics, it can be hard to turn off the phone or unplug the laptop for a night when an evening at the hotel is so much more productive.
But don't underestimate the value of feeling recharged.
On your next business trip, carve out time in the schedule to get away from meetings and spend time either by yourself or with co-workers in the city you're visiting. You'll feel more recharged when you go to the office the next day and you will also have some talking points with the clients that they may not have been expecting. Business deals are all about relationships and if you can show that you have taken a genuine interest in your business partner's city, you're showing a personal investment.
Not Accounting for Travel Time
Revisiting the last point, business executives are not robots. Don't expect to be able to sit through a six-hour flight and have a meeting thirty minutes after landing. First of all, travel delays are more frequent than a lack of delays. Second of all, minimize the stress when you can. Instead of banking on finding a good cab driver who won't overcharge you, why not book a personal driver for your executive travel needs? Our chauffeurs will be waiting at the airport to make sure that your commute isn't all stressful.
Riverside Limousine- Airport Transportation
Oh, the headaches that accompany air travel: the endless lines through security. The baggage fees. The delayed flights. The list goes on and on. We can't solve all the problems you might encounter when you're in the airport, but we certainly can make it easy to get you there…and back home or to the office. In fact, we're pretty sure you won't be able to think of a more welcoming sight after a long day of travel than a chauffeured-driven Lincoln Town Car waiting just for you.
Transportation in Baton Rouge and beyond.
Riverside Limousines offers service to and from the following airports:
New Orleans International (MSY)
Baton Rouge Metro (BTR)
Lafayette Regional Airport (LFT)
Our chauffeurs and staff monitor your flight schedule to take the worry out of your traveling experience and give you peace of mind.
Riverside Limousines is helping you to get rid of your worst Executive Travel Habits by offering you the most trusted partner in Baton Rouge Area. Travel stress free and be sure you can always count on our services.
Browse our services and feel free to contact us.