Louisiana Tours – Where I've been … continued
The second leg of our anniversary Louisiana Tour started after the parade. The parade really was fun because of the local flavor of that rural community. These are folks you really would enjoy spending Christmas with. In a mini-bus from Riverside Limousines your family or group of friends can travel and make a day of an adventure like this.
Pitkin
From Elizabeth we continued west on Highway 10 to Pitkin. Pitkin's history goes back to the days when western Louisiana was disputed territory or "no man's land." The area was refuge for outlaws like John Murrel  and renegade settlers. Now it borders one area of the Kistachie National Forest near Fort Polk.
Allen Acres
In my first blog on staycations I emphasized "different" places to see and things to do. We hit a direct bull's eye with Allen Acres. The home of retired ULM botany professor Charles Allen, this bed and breakfast is a personal research center, outdoor art gallery, nature center, access to Kistachie and refuge for rest. He is very active in Louisiana wildflowers, butterflies and hummingbirds – Allen Acres reflects them all.
When we arrived Sue Allen took us on a short tour. The grounds feature an eclectic collection of art like bicycles up in trees. Her tour was punctuated with stories of visitors, friends and family. The butterfly and hummingbird gardens were dormant for the winter. I can only imagine how beautiful and busy they are when in bloom.
In one area Dr. Allen, a retired professor and botanist for Fort Polk, maintains two plots laid out and divided in to sections like a pie. Each slice starts as tilled ground and demonstrates year by year the progression of regrowth. The earliest slice illustrates 20 years of nature's restoration.
Our room was in the guesthouse. That December night we were the only guests. Hallways lead off of the entrance – living room – kitchen. There are rooms for 8 couples. This would work well for a family or group of friends visiting together. On Sunday morning we had a wonderful breakfast with Charles and Susan in the kitchen of their home.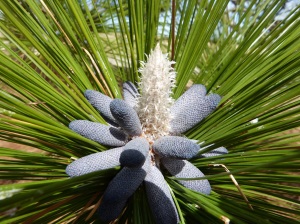 Before leaving we took a stroll to the edge of the Kisatchie National Forest to see a colony of leaf cutter ants. The ants are relatively new to the area. There are several other colonies close by. The ants migrated from South America. Leaf cutter ant's dig caverns and fill them with leaves to feed the fungi that are the ant's food. Their colonies are huge, covering hundreds of square feet. Thankfully these ants aren't aggressive – though they do bite when interfered with.
Wolf Rock Cave
After saying goodbye to Allen Acres  we had one more place to find before going home. Researching over the last year I found blogs about Wolf Rock Cave. Caves are unusual in Louisiana – and unusual is what I want. Leaving the Allen's we drove west to find the cave on the way home. Following instructions from several blogs we headed west on Hwy 10. We found Forest road 421 and Johnsonville Road – even found a newly built kiosk with information about the cave and area – but no directions to the cave. We drove around and finally gave up in frustration and drove home. End of story – until 1 month later.
Lea's Lunchroom
On the drive home we stopped in Lecompte at Lea's Lunchroom. This coffee shop was a very popular stop when Hwy 71 was the main road from south Louisiana to Alexandria. It still retains a unique charm. The sandwich, lunch plate and coconut pie were very good. After lunch my wife and I headed home.
So, plan your own Louisiana tour. Remember, with a professional chauffeur and luxury vehicle from Riverside Limousines, "we drive … you have fun!"