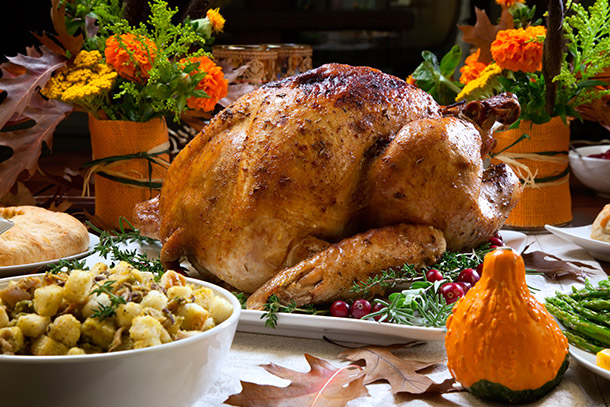 If you never spent a Thanksgiving day in New Orleans, we now give reason to do it.
The weather is usually beautiful, and there are many things to do over the Thanksgiving weekend from horse racing to a classic football game, shopping, nice places to eat and even an amazing light show, so it's safe to say that Thanksgiving weekend offers plenty of possibilities in New Orleans.
Operating in Baton Rouge for over 38 years, Riverside Limousine has a few ideas of great activities that you can engage in over the Thanksgiving Weekend. Read on, discover and choose.
The Fair Grounds Race Course and Slots
We think that after you relish your turkey dinner, you enjoy the sport of kings at The Fair Ground Race Course and Slots.  Don't worry Thoroughbred racing continues on Thanksgiving Day and each day through the weekend after. The property also includes slots, video poker, and cash giveaways each weekend.
If you're taking on the responsibility of driving yourself and your family to this event, you're asking for a disaster.
Not only will you have to confront with the normal levels of traffic, but you'll also have to confront with the droves of people who are driving in too for this.
We all know that Thanksgiving should be a day of celebration and leisure, spent enjoying time with your family so taking on the responsibility of driving could add tons of unnecessary stress.
The easiest solution is to book  Riverside Limousines to handle your trip.
A classic football game sounds great
The Super-dome is the symbol of the city. It stood tall since forever and now has a new name: Mercedes-Benz Super-dome.
The Southern Jaguars and the Grambling State Tigers, one of the biggest rivalries in college football is played out in the Dome in New Orleans every Thanksgiving weekend. That's a show you need to see, and Bayou Classic is much more than just a football game, it is a celebration of everything that is right about college football.
The weekend of Bayou Classic also includes an Academic All-Star Challenge, Job and college fairs, and a scholarship gala.
So, plan to come to New Orleans for Thanksgiving weekend to attend the Bayou Classic, we are offering to ride you: Destination New Orleans.
Again, a professional chauffeur must come in handy for this type of event, first of all, because you are making sure that you don't miss half of the game because you couldn't find a parking space. Second, well, the joys of not driving yourself through the crowds, just sit back and relax.
Oh, the dinner
You'll get hungry for sure but do you have to cook? It's Thanksgiving day so you must find someone to thank for an according,  delicious meal. Then it's a good thing you are in New Orleans because you have plenty to choose. From great restaurants that feature classic New Orleans jazz bands to restaurants famous for its Creole cuisine. Choose here.
We told you a Thanksgiving Day in New Orleans would totally worth it,  especially if you are wise enough to book a chauffeured ride. Drinking and driving yourself around should not be an option not on Thanksgiving day and not ever. And who doesn't have a drink on Thanksgiving dinner?
Your chauffeur will simply drop you off at one of your chosen restaurant or location and then come and pick you up at when you'll call.
Wherever you decide to go after your dinner, a Riverside Limousine can help make it happen. Not only will you be relieved of the responsibility of driving, but you'll also get to be delighted by the sights without the pressure of traffic or finding a parking place. Which takes us at our last but not least activity.
Must see the lights and of course, shopping
Gals, it's a tradition. The day after Thanksgiving is a day to go shopping and see the amazing lights at the Celebration of The Oaks.
Magazine Street runs from Canal Street to Audubon Park and is a six miles of every shopper's dream. From slippers to jewelry start downtown and work you our way up to Audubon Park.
The Celebration in the Oaks is one of the most spectacular holiday lights festivals in the country, and according to the City Parks website is drawing more than 165,000 visitors annually,
This not-to-be-missed event lasts until Jan. 2.
Everybody is free to choose whatever they want to do on Thanksgiving weekend, but we firmly advise that everybody should keep safety a priority.  A study released last year places Thanksgiving on the second position of one of the most dangerous Holidays.
According to The U.S. National Institute on Alcohol Abuse and Alcoholism, one of the most traveled holiday of the year is Thanksgiving weekend, and DUI arrests are at their highest between Thanksgiving and the end of New Year's weekend.
This is why we insist on a chauffeured ride. To keep everyone safe consider this option.
The benefits of booking a Riverside Limousine are numerous; for starters, you won't have to worry about navigating the complicated traffic patterns. Additionally, you won't have to worry about parking, which is an absolute nightmare during an event as crowded as the Thanksgiving.
Also booking a Riverside Limousine is easy. Give us a call, and we will help.